Lapalissade 2011
« Les racines de l'homme d'hier sont celles de l'homme d'aujourd'hui. » RD
« The roots of the yesterday man are those of the modern man. » RD

Illustration de cette phrase par Caspar David Friedrich et Les Riches Douaniers (Richard et Zoll).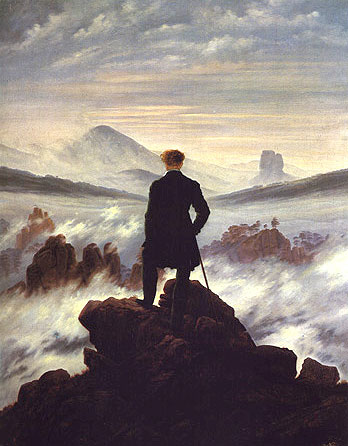 « Wanderer above the Sea of Fog » (1818), Caspar David Friedrich, Huile sur toile 98 x 74 cm, Kunsthalle de Hamburg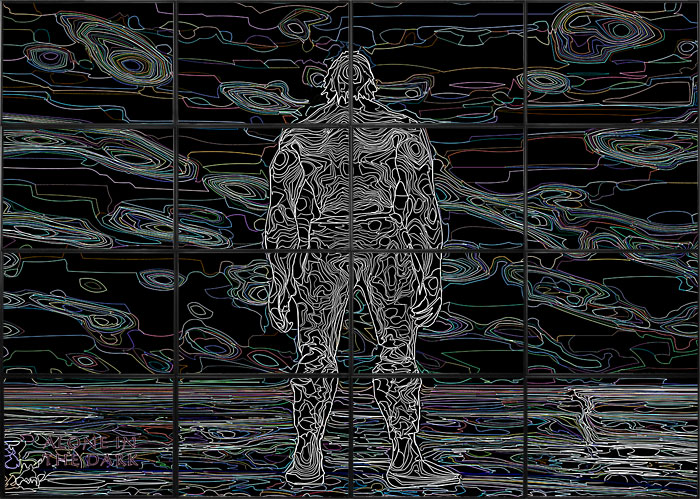 « Alone in the Dark » (2010), 16 éléments ultrachromes, 170 x 240 cm, collection privée
Ces deux tableaux seront exposés en 2036 dans un lieu non divulgué, du 3 avril au 18 décembre. Face à face ou plutôt « dos à dos ». « DOS * » est le titre de l'exposition. Dans un espace carré 20 x 20 mètres et d'une hauteur de 30 mètres. Sur les deux murs inoccupés on trouvera la porte d'entrée et la porte de sortie. Un spectateur n'entrera que lorsqu'un autre sortira. Les couples seront aussi séparés. Pour les hétérosexuels, la femme entrera la première évidemment. L'éclairage sera effectuée selon la production industrielle de 2036 (minimum de 6000 lumens par source lumineuse requis). Le sol sera blanc. Il sera repeint tous les week-end. Le gardien ne sera pas visible mais derrière des écrans de contrôle branchés sur des caméras dissimulées. Caspar David Friedrich est mort en 1840. Le douanier R. est mort en 2035 et le douanier Z. est âgé de 59 ans. Chaque jour le douanier Z. jouera pour la dernière heure de cette exposition. Le son sera retransmis en direct par internet. La partition ci-après (extrait) servira de canevas à l'improvisation.

* DOS est un système d'exploitation informatique utilisé depuis 1981
These two paintings will be exhibited in 2036 in an undisclosed location from April 3rd to December 18th. Face to face or rather "back to back." "DOS" is the title of the exhibition. In an area 20 x 20 square meters and a height of 30 meters. On the two unoccupied walls can be found the door and the exit door. A viewer can enter only when another go out. Couples will also be separated. For heterosexuals, the woman will enter the first. The lighting will be based on industrial production of 2036 (minimum of 6000 lumens per light source is required). The floor will be white. It will be repainted every weekend. The warden will not be visible but hidden behind monitors connected to unseeable cameras. Caspar David Friedrich died in 1840. The "Douanier R." died in 2035 and the "Douanier Z." is 59 years. Every day the "Douanier Z." play at the last hour of the exhibition. The sound will be broadcast live over the Internet. The score below (extracted) will serve as canvas for improvisation.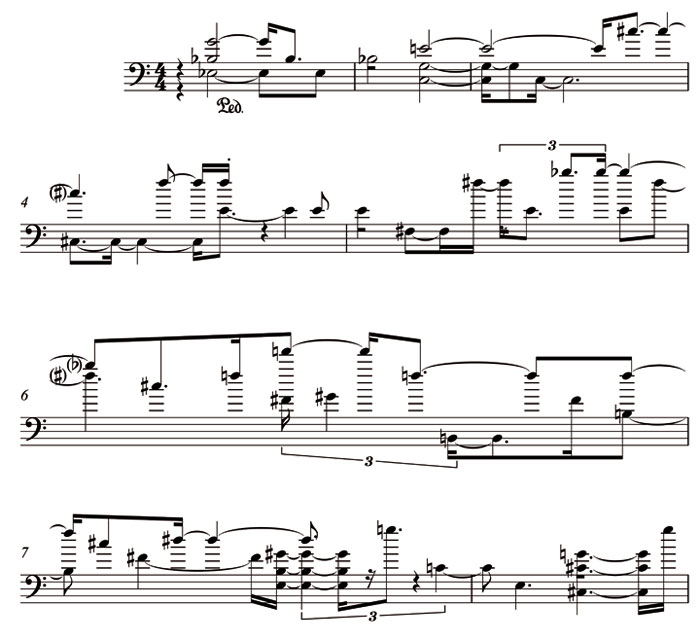 ---
Actualité

- Participation internationale du 26 octobre au 6 novembre 2010 :
« FILE Rio 2010 », Oi Futuro Cultural Center, Rio de Janeiro (Brésil) avec les courts-métrages « Chevauchée Nocturne » et « Kamikaze ».

- Conférence le 30 novembre 2010 à Montbéliard - Pôle Image Fronche-Comté.

- Participation du 3 au 19 décembre 2010 : « Gamerz 06 », Aix-en-Provence, Arcade PACA avec «Kamikaze»
Site des Riches Douaniers | Précédents journaux ultralucides
Pour vous désinscrire de ce journal ultralucide, merci de répondre à ce mail en nous le signalant.